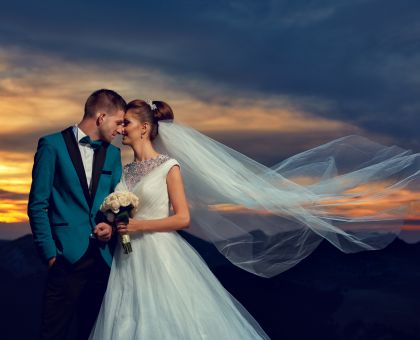 Photo Booths at Weddings
A Wedding is more than just a normal party or function and not just for the bride and groom so we thought we would impart some important advice and information pertaining to photo booth hire for weddings.
More than for any other event in your life you want to do all you can to ensure that everything goes smoothly on your special day and that includes with the Photo Booth. Especially as it is often the leading source of entertainment for your guests and if it goes pear shaped this is one thing that they are going to remember long after you say "I do"
Choosing the perfect wedding photo booth
When it comes to weddings you want to really think about the look and style of the photo booth. It should not only fit in colour wise with the theme and styling but it should also be of a quality befitting for a wedding. The last thing you want to do is to spend all that time and money on fantastic venue styling and venue location choice only to spoil it by picking a photo booth that isn't befitting. Go for a photo booth that looks the business and even more importantly pick one operated by a reputable company known for looking after weddings. Brides are generally the pickiest of clients (and rightly so!) so getting advice from past brides is going to really help.
Choosing the right extras for your wedding photo booth
A photo album guestbook is a must but pick a good one cause you want it to last till you both grow old and grey together! Most operators will offer some sort of album but the quality and size can vary greatly so make sure you really question them to find out what they are offering you. Ideally you want something made of quality materials, leather if you can afford it or at least something durable and which has glassine interleaves (a very thin material between the pages to stop the pictures from sticking). It should also have enough pages to allow all your guests to both leave a copy of their photostrips and also write a short message. The exact amount will depend on how big your wedding is and how long your hire is going for but in general you wouldn't want anything less than 80 pages.
For a really personal touch you can get your album professionally custom made. There are a number of talented people around who do this but a great starting point is the Etsy website.
Aside from the album you may like to consider some props to add some fun and colour to the photostrips. When choosing a props box try and get something with classy items. Many operators have props boxes that more cater to the party scene which may not be ideal. If you can, ask for an inventory, so you can assess if it's suitable. Alternatively you can look online or in your nearest party supply store or op shop and you will find an abundance of options.
Payment terms
The general nature of planning a wedding means that most of your suppliers are going to want you to cough up a lot of money early. It doesnt have to be this way with the photo booth. Many companies will only require a small deposit to hold the booth with the balance not due till a few weeks prior. Be sure to keep your budget and cash flow in check when booking your booth to avoid all your weddings suppliers wanting payment at the same time. Many photo booth companies will even let you pay off in installments which can be a great help.
Conclusion
You're planning on only getting married once so you want to get it right so its important you give your photo booth hire choice good consideration. As with all things you get what you pay for so find a good booth from a great company and you cant go wrong!
Happy Boothin!
FURTHER READING
Why you should pay more for a Wedding Photo Booth
How to avoid a Photo Booth Hire Disaster!
Tips to find the perfect Photo Booth for your Wedding
Disclaimer: While every caution has been taken to provide readers with most accurate information and honest analysis, please use your discretion before taking any decisions based on the information in this blog. Author will not compensate you in any way whatsoever if you ever happen to suffer a loss/inconvenience/damage because of/while making use of information in this blog.
(Photo Booth Blogger: Justin Jowett)
Tags: Photo Booth, Photobooth, Photo Booth Hire, Photo Booth Rental, Wedding Photo Booth, Photo Booth Hire Sydney, Photo Booth Hire Melbourne, Photo Booth Hire Brisbane, Photo Booth Comparison, Cheap Photo Booth, Party Photo Booth, Corporate Photo Booth, Photo Booth Hire Gold Coast, Photo Booth Hire Perth, Photo Booth Hire Adelaide, Photo Booth Hire Canberra, Photo Booth Australia
Related Articles
---
Comments