Things to consider when hiring a Photo Booth
Size / Capacity
The size of a photo booth is very important to consider when finding the right booth for your event. Naturally, the bigger the photo booth the more people that can fit into each shot, however, you need to be mindful of your venue and also that bigger is not always best. Bigger booths often take up a great deal of floor space, especially when factored in with peripheral items such as tables for props or album setups. Be sure to check what is appropriate with your venue. Nowadays some booths can fit a hoard of people. As the hirer you need to think about what you really want from the shots. As soon as more than a couple of people fit into the booth the shots can look similar to a group shot taken by a normal camera. Generally, the smaller and more intimate booths produce a completely different style of photo strip, which is all about facial expressions. Be sure to compare photo strip examples and then decide what is right for you and your event.
Print size
Photo strips come in a variety of sizes. The most common size is 2 x 6 inches (5 x 15cm) with four individual frames making up the photo strip. Some machines print three frames, while others print five or six frames in a variety of different frame sizes often printed as a single 4 x 6 inch photo (10 x 15cm). Some (often the home made machines) simply take normal pictures rather than photo strips. Be mindful of how you want the final product to appear.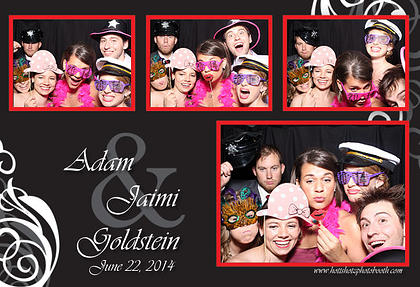 Print copies
Prints are most commonly doubles with the idea being the guest keeps one and the hirer keeps the other. Often the duplicate is placed in a guest photo album, accompanied by a handwritten message. Most machines cut the strips, where others require an attendant or the hirer to cut them in two. There are some machines that only print single copies whilst others offer extra prints. Make sure you are aware of what is offered as part of your package.
Restrictions
Most photo booths require power which means setting up a booth at your local park may be impractical whereas a photographer-powered booth location might work well. Do not assume you can set up a booth outside as some companies may require shelter from the weather. Some machines can be quite heavy (up to 350kg) so make sure you consider stairs. They may also not fit through a standard doorway or be able to be disassembled. Before you book your photo booth hire operator, make sure they will be able to access your function space.
If you have any guests that are in a wheelchair or have difficulty accessing small spaces you may like to consider this when choosing a booth. The smaller traditional photo booths normally are not big enough to accommodate a wheelchair. Small children should also be considered as many booths cameras may be too high for them to be in shot. Some operators offer booster seats to overcome this and there are a few select operators who have mini booths designed specifically for kids events.
FURTHER READING