Advertise to Hundreds of Photo Booth Operators
Why Advertise with Photobooth Finder?
Australia's largest network of photo booth operators.
Trusted platform with active and engaged photo booth community.
Site is receiving over 45,000 unique visitors yearly and has over 250 active member operators.
Showcase your product or service directly to hundreds of Australian photo booth operators.
Choice of advertising options to suit your needs (see below).
Advertising Options
1. Banner Ad
Your banner advert will appear in the member operators dashboard.
Members dashboard is accessed regularly by our members to manage leads, accounts and their listings.
Banner advert is 688 x 200 and will link to your website or preferred url.
Flexibility to change your banner advert during your plan*.
Choose from 6 or 12 month plans.
Cost $599 for 6 months or $999 for 12 months. (SEE BOTTOM OF PAGE FOR SPECIAL OFFER!)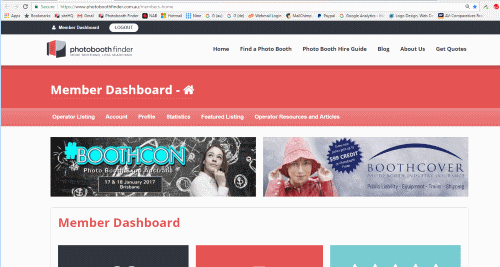 2. Industry Offers Members Newsletter
An editorial or advert of your choice will appear in our members newsletter.
Up to 50 words, 1 banner image and 1 link included.
Newsletter is sent to 250+ member operators.
Cost $149 per newsletter.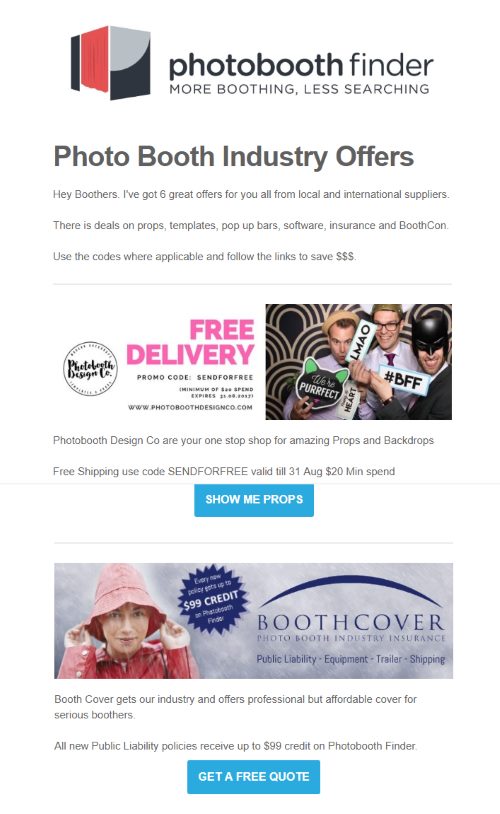 3. Blog / Supplier Spotlight
Guest author an upcoming blog about a relevant topic Or be interviewed as a Spotlight Supplier
Up to 250 words, 3 images and 3 links included.
Blog will be promoted via social media (FB and Twitter).
Blog will remain on the website indefinitely.
Cost $399 per blog.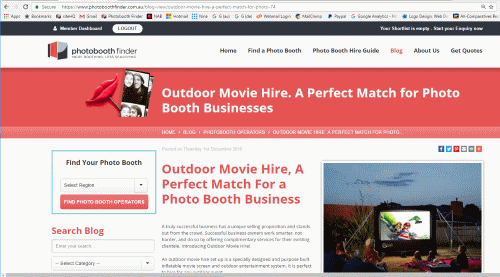 SPECIAL OFFER
Take out a Banner Ad and get FREE placement in the Special Offers Members Newsletter. $398 - $596 Value*
Valid for new advertisers only till 30 Jun 2019.
Placement included in all Newsletters sent out during your chosen Ad period.
*Actual value dependent on ad period chosen and no. of newsletters sent during that period
Got Questions or Ready to Advertise?
Please get in contact with us to assist you with any questions about or to organise advertising on Photobooth Finder.
Contact Kyri 0492 844 246 or admin@photoboothfinder.com.au
*6 Month plan up to 3 mid plan ad changes allowed, 12 month plan up to 12 ad changes allowed.