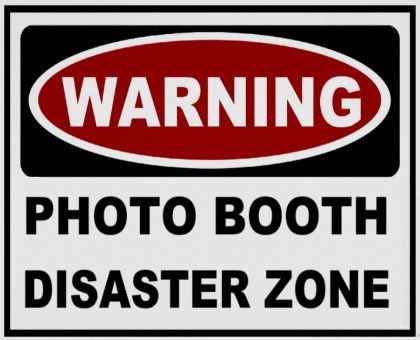 How to spot a Cowboy Photo Booth Hire Operator
(and thus save yourself from a photo booth hire disaster)
Throughout Australia but particularly in Sydney, Melbourne, Brisbane and Perth Photo booths have enjoyed the most amazing resurgence over the last 10 years. It's easy to understand why, they are quite simply the most fun, entertaining and interactive addition to any event. However don't kid yourself in to thinking that every photo booth is awesome or that any old photo booth operator is going to give you the amazing experience you are expecting. BEWARE!! Cowboys roam the photo booth fields and if you don't know how to spot one you could be in for a photo booth disaster or at the very least a nasty surprise.
By disasters and nasty surprises I mean things like:
Cancelling your booking last minute due to mismanagement (eg double booking, lack of staff)
Cancelling your booking to accept a better booking elsewhere
Running out of paper mid hire
Turning up late / Leaving early
They go out of business before your hire and take your money with them
Not being able to access the venue on the day due their lack of lead up liaising with your venue
Issue prone photo booths which result in a loss or stoppage of service during your event.
Technical issues for which they aren't equipped or experienced to fix on site resulting in loss of service
Flimsy or DIY booths that aren't up to the job
Poor quality, ugly or tired looking photo booths that simply do not match the event
Poor quality prints, videos or gifs
Hidden and/or unexpected charges (meals, delivery fees, difficult set up, early set up, late pack down)
Not saving your digital copies due to operator error
Rude or unhelpful photo booth attendants during your event
No insurance (eg public liability, vehicle, contents)
Not using a surge protector (risk of injury or booth malfunction)
Not taping down all cords (risk of injury)
The list goes on but you're getting the picture by now that plenty can go wrong.....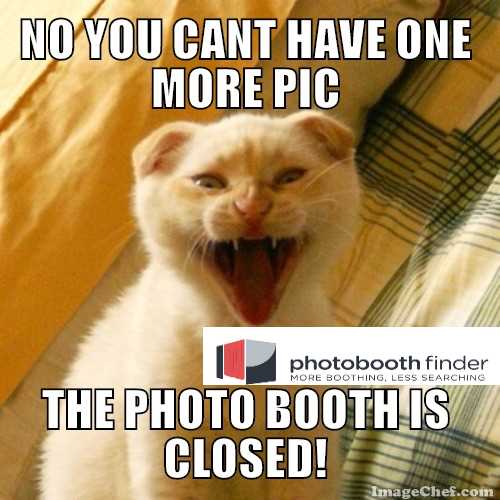 Before we get into how to spot Cowboy let's delve into what actually makes a truly great photo booth experience. There are two pretty simple but not always deliverable elements to this equation:
1. Good Customer Service (pre, during and post hire)
2. High Quality Photo Booth (construction, hardware and software).
It's very important to note here that you don't necessarily have to find someone who rates perfectly on both counts. More important is that you understand that there is generally a direct correlation between pricing and how well different operators and their booths actually rate on these two elements. For instance if you want a photo booth for your Wedding expect to pay a higher price as you don't want to take any risks at anything going wrong as you get one chance! So in this case you would be wanting the best customer service to make the process easier for you and you're going to want a high quality photo booth to ensure your guests and you have a great experience to rave about for years to come and have high quality prints, videos etc which are going to last a lifetime. However if you are having a backyard BBQ and just wanted to spice it up a bit and aren't needing the ultimate photo booth experience you can find a cheaper options which still give you a relatively good experience.
Unfortunately photo booth operators can't always tell you honestly how they really rate nor can you just base your assumptions on pricing. You're going to need to use your smarts and your ability to research to help you. So how do you tell a good operator from a Cowboy? Here are some warning signs to help you spot potential Cowboys:
Their website looks unprofessional (messy layout, spelling mistakes, poor grammar, cheap graphics etc)
Their website is a one pager with limited to no information on it
They don't have a website, they only advertise on Gumtree, Facebook etc
They offer their services on Groupon, Scoupon or My Deal
Their website has no or very limited pictures of their photo booths (ALARM bells should ring as they likely offer low quality booths and don't want you to see/compare them!)
They make some pretty audacious claims but do not substantiate them (eg We are the best/No.1 photo booth operator)
They are slow or don't always respond to your emails/phone calls
When you phone them they are short with you and more interested in getting you booked in and taking your money than answering your questions in a professional manner
They have a Facebook page which doesn't allow anyone to make comments on their posts (ALARM bells should ring here as this is often a tactic to avoid bad reviews/feedback)
They claim to be equally as good if not better than the expensive photo booth operators but can do it much cheaper
There is no record of their business name in the ABN register (ALARM bells should ring here as all legitimate businesses must be registered)
They have plenty of amazing testimonials on their website but when you search elsewhere you find bad or no reviews for them
True Cowboys will tend to satisfy more than a couple of the warning signs but armed with this knowledge you will be better be able to avoid a photo booth disaster!
Photobooth Finder is also here to help you. We have built a trusted network of over 250 photo booth suppliers around Australia.
CLICK HERE

to start your photo booth search

Happy Boothin!
Disclaimer:
While every caution has been taken to provide readers with most accurate information and honest analysis, please use your discretion before taking any decisions based on the information in this blog. Author will not compensate you in any way whatsoever if you ever happen to suffer a loss/inconvenience/damage because of/while making use of information in this blog.
(Photo Booth Blogger: Justin Jowett)
Tags: Cowboy Photo Booth Operators, Disappointing Photo Booth Experience, Good Photo Booth Operators, Bad Photo Booth Operators
---
Comments