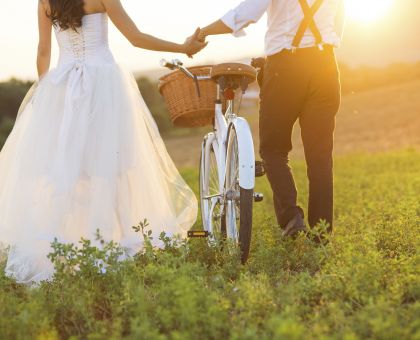 Why you should pay more for a Wedding Photo Booth
Getting married is undoubtedly the single most important event in anyone's life and ensuring that their wedding day goes well is of utmost importance. However ask any current or former bride or groom and they will all tell you that as soon as they mentioned the word "Wedding" to a supplier they had the feeling the supplier saw dollar signs roll across their eyes and heard the "cha ching" of cash registers.
It is fair enough then that this perceived price gouging has created some cynicism in the mind of the general public. For most wedding suppliers, including photo booth operators, there are actually some very legitimate reasons why they do charge relatively more and why you should actually be glad!
If you know anything about business you will know that all businesses have to bring in more revenue than their expenses to turn a profit. If they do that well enough and have money left over to reinvest in making their businesses better and continue to grow that basically makes them a successful business. There are 4 simplified business models I am going to talk about and all can achieve success if executed well however only one type is the type I would recommend choosing when it comes to choosing a photo booth or other successful wedding supplier. This is not to say that of you choose the others you're in for problems or the operators won't do a good job. Only that this model has the lowest level of potential risk versus value for money and when it comes to weddings if you can afford it you want as much chance of success as possible for that special day.
Many successful professional wedding suppliers work on a business model of what I like to call "less equals more". Less clients paying more gives them more time to look after each client in a manner befitting the fact that those clients by the very nature of their event require more work, planning and customer service than regular clients. Successful lower priced suppliers work on the opposite business model of "more equals less". More clients paying less means the the more clients they need but the less time they have for each of them. Of course in between just to confuse things is the "more equals more" model which is colloquially called a rip off merchant and the "less equals less" model aka pay peanuts get monkeys! There is plenty of grey area in between and of course I am being very general but when it comes to your wedding which supplier business model would you want looking after you given the transparent choice?
At the end of the day the equation is actually very simple regardless of the business model. Wedding clients take a lot more of a suppliers time and efforts than general clients and they deserve to be paid accordingly.
What extra work is involved in a Wedding Photo Booth Hire?
Let's break it all down for you so you can see exactly what I am talking about in regards to how much extra work is involved for a wedding photo booth hire for a professional wedding photo booth hire operator.
Pre Booking
Before a bride engages a photo booth operator she is likely to ask a lot more questions and want to know a lot more about them via phone calls, emails and in person meetings. Many photo booth hire operators will exhibit at Wedding expos and venue open days to showcase their product direct to brides. This all takes up more of their time and money which forces up their businesses break even point. In other words they need to bring in more revenue to cover costs to attract wedding clients.
Pre Hire
During the planning process brides require special attention as they generally are very particular about what they want and/or they need close guidance through the whole process. They are often very busy organising all the elements to their wedding and the photo booth is often lowest on the list. This means photo booth operators spend a lot of time chasing brides for booking confirmations, answering their queries, finalising booking details, creating artwork or chasing payments etc. Couple all that with the fact that brides are known to change their minds and operators have to be all over it to keep up but again this all takes up valuable time and time is money.
Note: A professional Wedding photo booth operator will never cancel a booking in order to take up a better offer from an easier to deal with client as they have charged their services correctly. This may not be so true of other operators particularly those at the very lower end of the scale. The last thing a bride needs is having to deal with finding a new photo booth operator in the weeks leading up to their wedding.
The Hire
Unlike other hires on the day (and often for the week leading up to the big day) the bride is not available to talk to which means everything has to be 100% sorted and ready well in advance. From liaising with the venue and all the behind the scenes planning to setting up logo graphics on the photo booth it all has to be ready to go on the day. Given there is no room for error professional wedding photo booth operators will often also ensure they have spare components (eg printers, screens) and more than required amounts of media or peripheral items in case of unexpected issues and/or have extra staff on standby. All this extra preparation and redundancies can really eat into profits.
Post Hire
Timely preparation of CDs, USBs, online galleries and other items happens post hire along with follow ups to ensure clients are happy with how everything went. Should there have been a problem whether the fault of a photo booth operators or not professional photo booth operators will do whatever it takes to keep their clients happy including full or partial refunds and/or future hire discounts.
Conclusion
So now that you know about all the extra hard work and planning that is involved in ensuring the successful deliver of a wedding photo booth you may change your mind about exactly what is going on in the eyes of a truly professional wedding supplier. For most of them it's not actually dollar signs but them calculating how hard they are going to have to work to earn those dollars and often the ones best placed to do that are going to charge you a little more but the good ones are going to look after you much better too.
Of course there will always be wedding suppliers who don't bring the extra value they are charging brides and grooms and sadly they give all the legitimate suppliers a bad name but so long as you do your research and engage a reputable specialist wedding supplier be glad that you paid a little extra for your wedding photo booth.
Happy Boothin!
Disclaimer: While every caution has been taken to provide readers with most accurate information and honest analysis, please use your discretion before taking any decisions based on the information in this blog. Author will not compensate you in any way whatsoever if you ever happen to suffer a loss/inconvenience/damage because of/while making use of information in this blog.
(Photo Booth Blogger: Justin Jowett)
Tags: Wedding Photobooth, Wedding Photo Booth
Related Articles
---
Comments