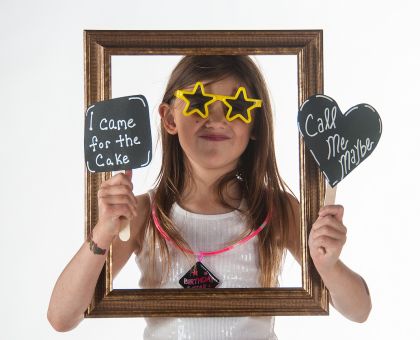 Kids + Photo Booths = FUN!!! (2017 update)
(This article was originally published in 2015 but has been updated.)
Only a handful of years ago it was only those kids lucky enough to have parents with large disposable incomes who got to have a photo booth hire for their special event like a birthday party, Bar/Bat Mitzvah or primary school graduation. With photo booth hire prices coming down every year and the interest in them growing it wasn't long before kids started to become a real market for the photo booth industry. Nowadays it's become common place to find a photo booth alongside or instead of a clown or a jumping castle at a kids birthday party.
It's no wonder though really that kids and photo booths are such a good fit. On the one hand kids love to be silly whilst having their pictures taken. They also have lots of energy and aren't easily bored by doing the same thing over and over again which makes hiring a photo booth with unlimited prints for the duration of the hire, good value for money. Then on the other hand for the parents and other adults attending the event they have the perfect babysitter come entertainer! Not to forget that the photo booth can also put up with screaming children and never needs a break. Which means the grown ups can also enjoy the event with much of the stress taken out of the days activities. It's truly a win – win all round.
As the kids market has grown so have the photo booth options for them. No longer must they sit on booster seats or extra chairs to have their image captured in a photo booth made for adults. Now there are mini photo booths made just to fit little people! There is also some great new software which is designed just for them too. Whether it be their favourite cartoon character or actor inserted into the shot or child friendly backdrops there really are so many photo booth hire options just for kids.
If you're looking for a suitable photo booth for your child's next event be sure to use Photobooth Finders photo booth search engine to see what options are available in your local area.
TIPS
Try to hire an unattended photo booth (ie no attendant) as they are better suited to deal with kids
Always check with the operator first on their childrens policy as not all can or will cater to kids only events
Hire a photo booth that is physically suitable for kids (child seats or lower set cameras etc)
CLICK HERE

to find the best kids photo booths for hire
(Photo Booth Blogger: Justin Jowett)
Tags: Kids Party, Fun Ideas For Kids, Kids Photo Booth
Related Articles
---
Comments