Best Booth For You
There are two main types of photo booth setups you can hire: enclosed and open.
Within these options are many sub categories depending on style and functionality.
We like to define the different types of photo booths as follows to help you choose the perfect booth for rental.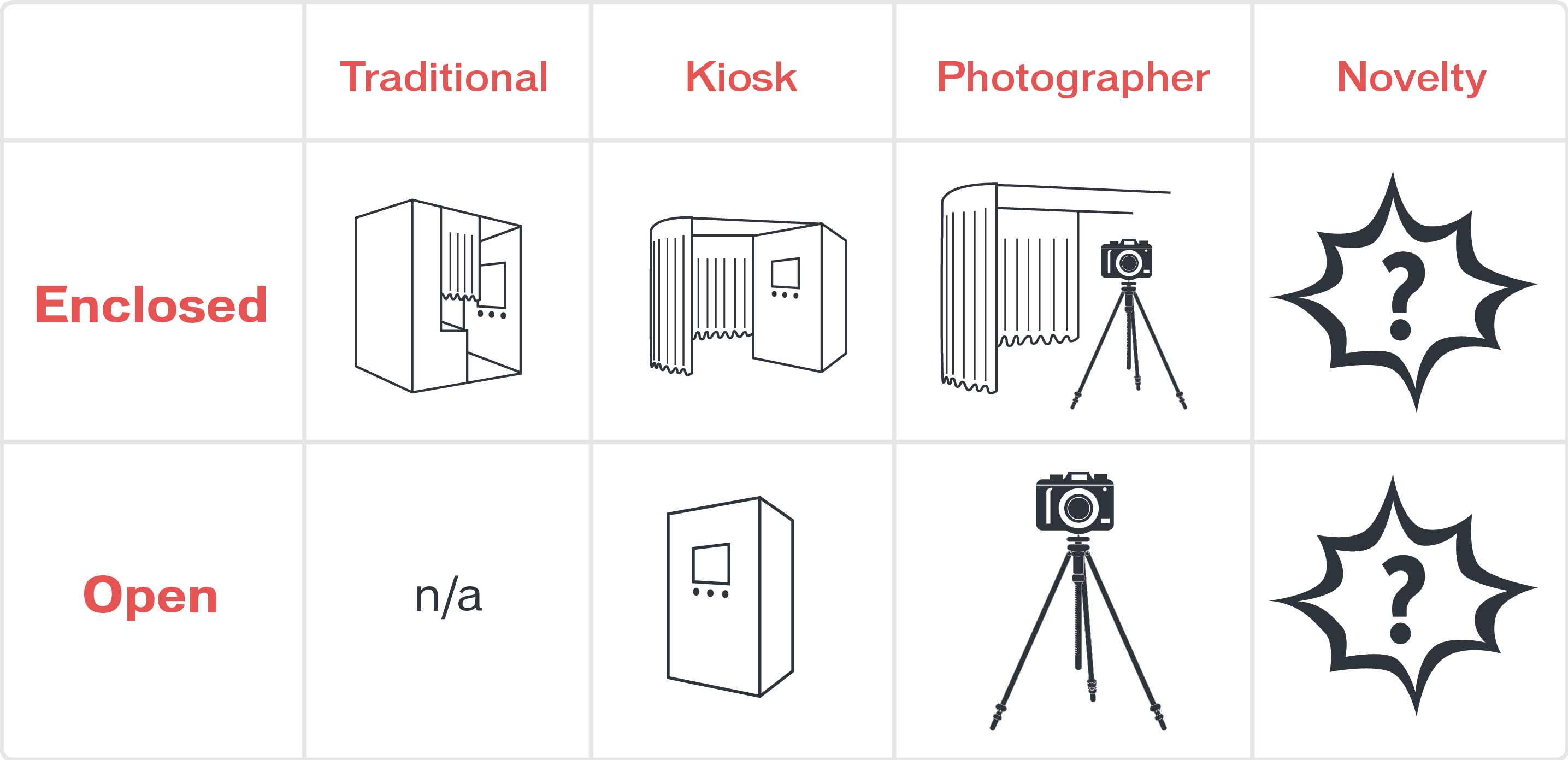 Enclosed
Enclosed photo booths either have curtains, walls, panels or a combination to ensure its users are hidden away from prying eyes while they pose for their glamorous, or not so glamorous shots. Enclosed photo booths come in a variety of sizes generally fitting 2 to 16 people, while incorporating a variety of materials from steel cabinets, curtain rod enclosures to cubicle style walling.
The level of sturdiness of these photo booths varies greatly depending on construction. A number of hire companies choose to build their own rather than adding a professionally manufactured machine to their stock. The smaller photo booths for hire will tend to have a bench seat, whereas the larger photo booths are often made for users to stand.
Open
Open photo booths are just as they sound - open for all to see. Like the enclosed photo booths, open photo booths for hire come in all different styles but they generally allow for more people than the enclosed photo booths. They also allow people to watch which can create a fun atmosphere – great for show ponies. Of course, on the downside, there is no privacy, which can inhibit some people. When choosing the right photo booth for hire, be mindful of how any potential flashes, booth lighting or noise will affect the surrounds of where you set up an open photo booth.
---
Traditional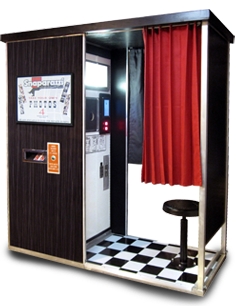 Vintage style
Made of sturdy steel and based on the style and basic look of the original photo booth, most of today's machines have been fitted out with the latest digital technology. These machines often have a computer screen, which not only lets users select different options but also shows the user as they pose. Many of these photo booths for hire have a seat or bench and are made to comfortably fit two to three people. They have been known to fit a great deal more – albeit uncomfortably. Due to the weight of all steel construction, transporting these rental photo booths up flights of stairs can prove challenging. For those not worried about high tech, there are still some vintage chemical ink processing machines for the authentic old school prints.
(Image: Snaparazzi Photo Booths)
Retro style
Retro style photo booths evolved from their vintage predecessors so are very similar in many aspects. Although unlike the vintage photo booths they were always designed to be mobile which makes them perfect for the photo booth hire market. They all have an internal screen and offer high quality prints via the latest digital technology and components. The retro style photo booths that are used by most operators are purpose built for the photo booth rental industry. The same type of booth you can also see in the arcade market. Both vintage and retro style photo booths will provide that classic photo-strip look which is all about facial expressions rather than fitting everyone in the shot.
(Image: Kingdom Photo Booth)
Modern style
Modern photo booths for hire are bigger than the retro booths and made of panels, curtains or walls and are great for fitting in big groups of people. They are often demountable so they can be lifted upstairs. Some booths will come with an internal computer screen. Guests using a photo booth without a screen will be unaware of when the shots are taken. The modern photo booth is aimed to fit the maximum number of guests and with no seat, users stand freely.
(Image: Borsellino Photography)
Kiosk

This refers to any photo booth that is "column-like" in structure. Some have computer screens or mirrors to show users posing. The advantage of this style is there is no limit to the number of people who could potentially be in the shot when set up in the open style. Be sure to note what will be in the background of the shots, especially if no special backdrop or partition is provided. The kiosk booth can be set up open or enclosed, and most operators with kiosk photo booths for hire offer both possibilities at different price points. Kiosk can also refer to "print stations" which facilitate the instant printing of pictures taken by mobile devices (eg using Instagram) or a photo booth.
(Image: Kingdom Photo Booth)
Photographer

This refers to any photo booth hire setup where a photographer uses their camera to take the pictures while guests pose for them. This can be done in both an open and enclosed setup often with various backdrops or partitions. Many photographers that offer this service do not include the cost of prints or limit the number of shots.
(Image: Leigh Zeidner Pictures)
Novelty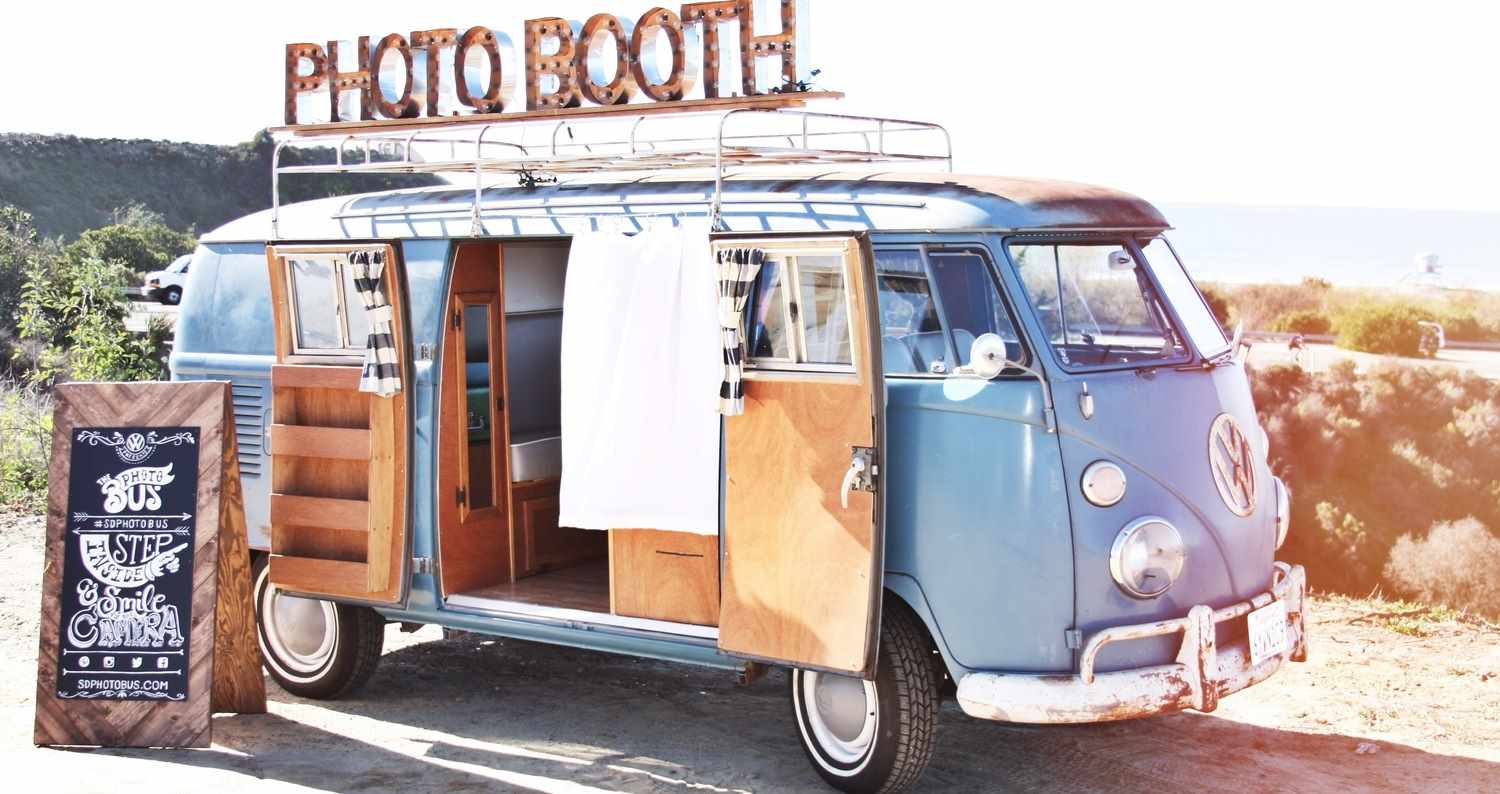 The novelty category is where you find the latest crazes in photo booth rental entertainment like Slow-Mo Video Booths, Mirror Booths, GIF Booths and Instagram printing Kiosks. Also here you'll find inventive operators turning cars and caravans into photo booths for even more fun settings. Another option is a "cartoon booth" which uses computer software to incorporate cartoon characters into the shots. Consider whether a novelty booth would enhance your event. Find out more about the latest photo booth novelty trends here:
2016 Latest Photo Booth Trends
2015 Latest Photo Booth Trends
(Image: The Photo Bus)
Mirror Booth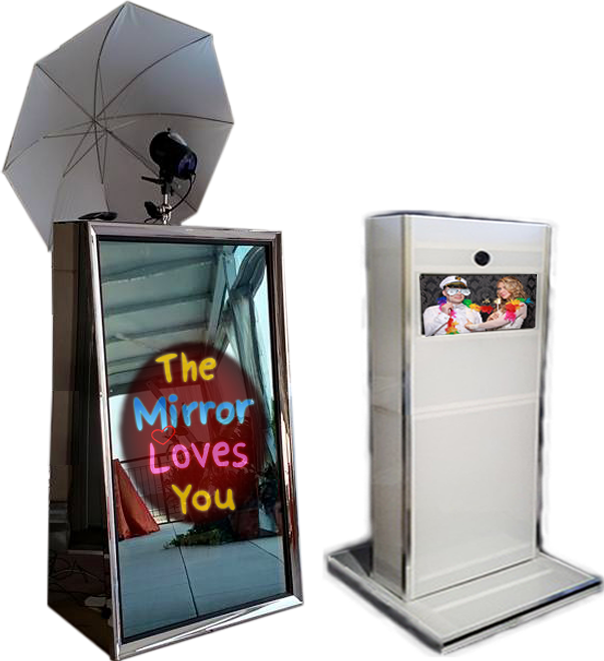 The Mirror Booth has become one of the hottest new photo booth hire trends. Taking the ultimate tool of narcissism and making it a photo booth is genius and oh so much fun! For the uninitiated a Mirror Booth is generally a full length mirror with two way glass which has a camera hidden behind a touch screen. To learn more about the Mirror Booth check out a the article "Mirror Booth Fad or Fab"
CLICK HERE

to find the Best Photo Booth Hire Deals