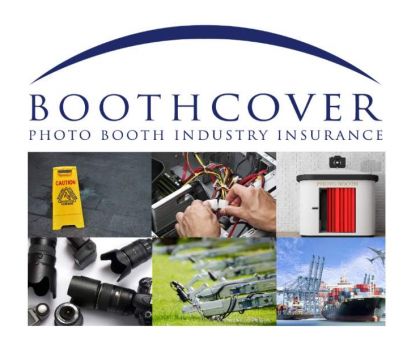 Photo Booth Operators Insurance: Booth Cover
Finally our industry has a 100% dedicated photo booth insurance provider: Booth Cover has officially launched!
Some time ago I recognised that the major insurance companies were ignoring the needs of the photo booth industry. They simply didn't get what we do and often confused us with being photographers or even part of the amusement industry, not amusing! The result often being inadequate, or worse still unusable cover and being over charged for insurance items we simply don't require. Something had to change and I set out to fix the problem.
Together with my long standing insurance broker, Steven Nelson (director of Oracle Insurance Brokers) who had previously organised comprehensive and great priced cover during all the years I was a photo booth operator we put our heads together and created Booth Cover. Booth Cover is Australia's only 100% dedicated photo booth industry insurance business. A product made by the industry for the industry coupled with expert advice and support to ensure photo booth operators businesses are properly protected at competitive prices.
Currently we offer the following tailor made photo booth insurance products:
Public and Products Liability - Protect your business from being liable to a third party for damages, losses, injuries or death resulting from your negligence.
General Property - Protect your photo booths and stock from accidental damages and theft anywhere in Australia.
Electronic Equipment Breakdown - Protect the repair costs for photo booths and other electronic equipment in the event of a breakdown.
Trailer - Protect your photo booth trailers from theft and damages.
Air and Sea Shipping - Protect any photo booths and equipment being transported to Australia by air or sea from overseas.
As part of our launch promotion every new policy issued gets up to $99* credit on Photobooth Finder.
Visit the Booth Cover website now to get a quote.
*Offer can only be redeemed once per customer, actual Photobooth Finder credit value is 5% of the Booth Cover policies cost value up to a maximum of $99 credit. Existing members will have their credits applied automatically within 30 days of paying for their policy in full. Non members must register on Photobooth Finder within 45 days of taking out a policy and notify Photobooth Finder of their Booth Cover policy in order to redeem their credit.
Disclaimer: While every caution has been taken to provide readers with most accurate information and honest analysis, please use your discretion before taking any decisions based on the information in this blog. Author will not compensate you in any way whatsoever if you ever happen to suffer a loss/inconvenience/damage because of/while making use of information in this blog.
(Photo Booth Blogger: Justin Jowett)
Tags: Photo Booth Insurance, Public Liability Insurance, Booth Cover
Related Articles
---
Comments