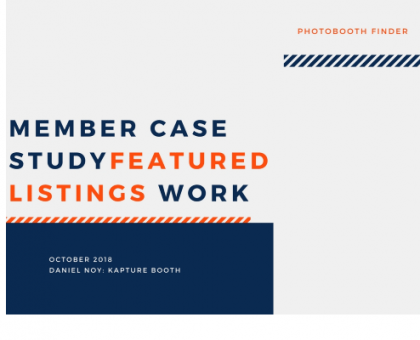 Member Case Study - Featured Listings Work
By Daniel Noy (Kapture Booth, Melbourne)
The below testimonial was received on the 16th Oct 2017 from Daniel Noy the owner of Kapture Booth about his experience with the Photoboth Finder service.
My partner and I have only been running our photo booth business Kapture Booth for a short period of time (December 2016 registered our business name and didn't officially start until March 2017). Since then we have managed to successfully grow our small photo booth business significantly in such a short period of time and I thought it would be great to share some of our learnings throughout our journey thus far.
Our Photobooth Journey
Starting a business can be vary daunting at times, let alone starting one in an industry where you have had little to no previous experience in. Yeah we had used a photo booth before at wedding's and various partys, however we were generally the silly drunken people you find in the pictures. So the big question is where do you start..? How do you get your name out and build your reputation?
Well, before we knew it we purchased our very first photo booth and began our exciting business venture – We were super pumped! Our main objective was to provide high quality affordable Photo Booth and Hashtag Printer rentals without the expensive price tag... and of course to have a little bit of fun on the side (We stand true to this moto to this day).
Growing our business: Marketing and Advertising
We wanted to grow the business simply as fast as possible, so we started the agonising task of trying to allocate our marketing funds through the right avenues that would get the best return for our money. We stumbled upon numerous and numerous amounts of advertising sites and started to get our name out and about. But it just wasn't getting the cut through we were expecting, yes we received a couple of booking's here and there but the money, time and effort we were putting in was ridiculous for such little return. It took us a good couple of months to stumble across Photo Booth Finder on Facebook, at first I was sceptical as it seemed way too easy and straight forward (Rule of thumb - If it's too good to be true, it generally is)!
We signed up for a free listing on Photobooth finder and before we knew it our first enquiry came through. We had put little to no effort into our profile and we were shocked to get our first enquiry after such little time, especially in such a competitive market in Melbourne. This is when the penny dropped for us and thought wait a second… We need to capitalise on the exposure and traffic Photobooth Finder receives, especially in a market with so many competitive vendors. So it was no question for us and we signed up recently to a featured listing and our account has been going crazy since! We are obviously getting more exposure now as we are listed on the first page along with all other featured listing's (maximum of only 12 allowed at a time) and it's really working for us.
Free Listing Vs Featured Listing
Period March-Sept 20th – As a Free Listing we received a total 9 enquiries with 3 secured bookings. Not bad for absolutely no effort
Featured Paid Listing Sept 21st to date- We have received 14 enquiries in 3 weeks! Out of those enquiries we have taken 8 bookings!
Considering each lead only cost's you $6.60 and a featured listing costing you $275 for 6 months exposure ($440 for a year). This has easily been the best cost per booking rate throughout all of our paid advertising efforts to date.
Keep up the good work Photobooth Finder (aka Justin Jowett)!
Thank you to Daniel for taking the time to provide his feedback and share his experience so that other boothers may also benefit. If you would also like to upgrade to a Featured Listing please login to your dashboard.
Note: Daniel Noy has not been paid nor received any financial gain for providing his own personal account of the Photobooth Finder service
Disclaimer: While every caution has been taken to provide readers with most accurate information and honest analysis, please use your discretion before taking any decisions based on the information in this blog. Author will not compensate you in any way whatsoever if you ever happen to suffer a loss/inconvenience/damage because of/while making use of information in this blog.
Tags: Member Case Study, Featured Listing
Related Articles
---
Comments