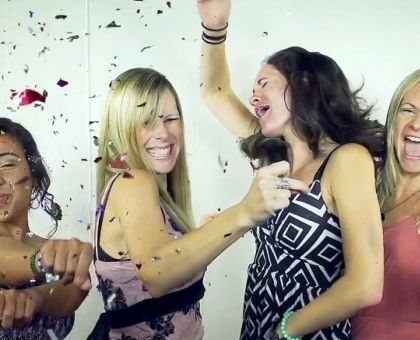 Latest Photo Booth Trends 2015
Every year someone somewhere in the Photo Booth industry comes up with new software or reinvents other ways to use the humble Photo Booth. In the early to mid 2000's saw the biggest advances of all. Firstly replacing the old slow chemical dye machines with fast digital printing and the latest software as well as designing easily transportable machines. These two advances gave birth to the Photo Booth rental industry and have allowed Photo Booths to become the must have item for Weddings, Parties and Corporate Events around the world.
As the industry grew soon after came the next big advancement: Video Booths. This allowed short videos to be made within the booth which were saved for prosperity for private hirers (particularly for Weddings) or used for promotional purposes for Corporate hires.
Somewhere in the mix a few savvy companies decided to take the booth out of the photo booth and place it into other situations like vehicles! In Australia there are a number of Kombi Booths...yes that's right a Photo Booth inside a VW Kombi Van. Also out there is Caravan Booths and Black Cab Booths...the possibilities are endless.
More recently two new trends have really started to make waves:
1. Instagram Printing – This is where people can use their own phones or smart devices to take pictures (particularly selfies!) and via a designated Instagram hashtag can then have those pictures print directly from the Photo Booth or Print Kiosk.
2. Slow-Mo Booths – A new take on the Video Booth sees slow motion videos being created from real time videos taken in the booth. The software also allows freeze frame pictures from the shoot to be printed too making for some amazing snap shots! This function really seems to be taking off in 2015 and has made waves all over the world since the software became commercially available a few years ago.
No doubt next year will see more new trends in this ever evolving Photo Booth Rental industry but come what may it sure is an exciting time for Photo Booths!
(Photo Booth Blogger: Justin Jowett)
Tags: Instagram Printing, Slow Mo Photo Booth, Photo Booth Trends, Photo Booth Hire, Photo Booth Rental, Photo Booth Hire Sydney, Photo Booth Hire Melbourne, Photo Booth Hire Brisbane
Related Articles
---
Comments