Tips to run a successful Photo Booth Hire Business (2017 Update)
(Article Originally published in May 2015)
Now that you've launched your Photo Booth Hire / Photo Booth Rental business in Australia here are a few tips to turn it into a long running success.
Great Customer Service
Most photo booth business owners think their business gives great customer service but clients don't always agree.
Firstly what is great customer service? Great customer service is ensuring and exceeding your clients satisfaction. Here's how you achieve this:
- Answer all client correspondence promptly and efficiently. Emails received during business hours should be replied to on the same day. If you can't provide them with a full reply you should at least touch base and let them know you're working on it and that you will have that reply by a certain time.
- Keep in touch with your clients. Always ensure you are touching base with your clients and keeping them well informed of what's going on with their booking. You want to gently step them through the process. Particularly important for brides as they have so much to organise and are relying on you to advise and remind (sometimes more than once) what the next step is.
- Be available for phone calls. If a client calls you it's because they want to talk. If you cant take the call make sure you have voice mail set up so they can leave a message. Call back as soon as you can, don't leave it longer than 2 hours. If you have automated photo booths ensure you are always contactable for technical help late at night whilst a photo booth is running.
- Have an informative website. Most people are computer savvy and will look to your website to answer their questions. Your site should be easy to navigate and be filled with on topic information.
- Be grateful. Whenever you take a call or reply to an email be sure to thank them for contacting you. Clients prefer to spend money with people who appreciate them. Be sure to thank them again when they book with you.
- Be flexible and willing to help. Some clients (especially brides) will want quite a bit of your time and extra help during the process of hiring a photo booth. Ensure you give them the help and time they need. Whatever the event they are hiring a photo booth for it's no doubt very important to them that it's a success and your willingness to help them achieve that goes a long way.
- Fix problems or offer acceptable compensation but always say sorry!. From time to time things are going to go wrong. Whether it be your fault or something completely out of your control is not as important as what you do to make it right with the client and saying sorry. Great customer service is turning a negative situation into a positive outcome for the client. If you can't fix or change what happened you need to work with your client to negotiate acceptable compensation of some form. If you can do this successfully many people will recommend even more highly than if it had all just gone smoothly. If you get it wrong they can potentially do a lot of harm to your reputation.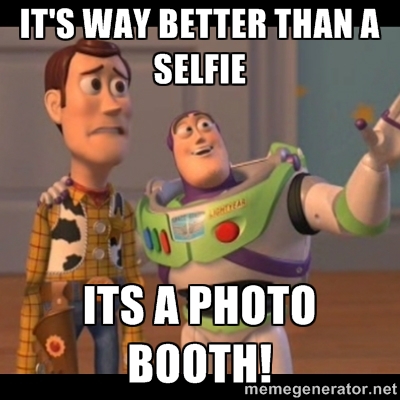 Build preferred relationships with Venues/Event Co-ord's
One of the best ways to get referral business is by looking after your venues. Event and Wedding Co-Ordinators like all of us like to recommend and work with people who look after them. This doesn't necessarily have to mean bribing them with gifts or free photo booth hire. It's more about always being friendly, courteous and working with them to ensure you're bumping in and out at convenient times. Also ensuring you always adhere to any venue requirements like signing in or providing them with risk control documentation.
Most venues will run open days through out the year. For these events many will invite their "preferred suppliers" to participate. Some charge for this but most do this for free in offset for the suppliers time. Doing open days can only be a win win for you. During the day you will have direct access to potential clients regardless of which venue they ultimately choose. You also get to build on the relationship you have with that venue. Ideally you want to not only participate in open days but have your business visible on any physical or electronic preferred supplier lists, newsletters or other materials.
If you get this right you will have the venue and events co-ordinators actively and enthusiastically recommending you to their clients even when you're not around. These clients are far less likely to shop around or haggle over price which means added success for you. If it's appropriate in time try to formalise the relationship with a "Preferred Supplier Agreement". This is a legal document which basically sets the arrangement in stone and works very well to ensure each party sticks to their word especially if commission or kick backs are involved. It is also a good idea in general as venue co-ordinators do tend to come and go and this will ensure no matter who you are dealing with they will continue to refer you so long as you uphold your end of the bargain.
Client Referrals
Any client you have ever looked after, if you've done things right with your customer service and product, should want to refer you to their friends and family. The harder part is facilitating a quantifiable way for them to do this. You should consider referral deals like vouchers. Engage your past clients on social media and come up with inventive ways to get them talking about you.
There is no better way get more business than by having past clients refer you. Even more so than venue referrals people who have had friends or family recommend you are far less likely to shop around or book with a photo booth hire competitor. A free listing on Photobooth Finder includes a reviews section for your clients to rate you so be sure to let them know about it. It just might be a few good reviews that wins the next photo booth hire for your business.
Happy Boothing!
Disclaimer: While every caution has been taken to provide readers with most accurate information and honest analysis, please use your discretion before taking any decisions based on the information in this blog. Author will not compensate you in any way whatsoever if you ever happen to suffer a loss/inconvenience/damage because of/while making use of information in this blog.
(Photo Booth Blogger: Justin Jowett)
Tags: Photo Booth Rental, Photo Booth Hire, Photo Booth Operators, Photoboooth Hire, Photobooth Rental, Photobooth Operators, Photo Booth Hire Sydney, Photo Booth Hire Melbourne, Photo Booth Hire Brisbane
Related Articles
---
Comments