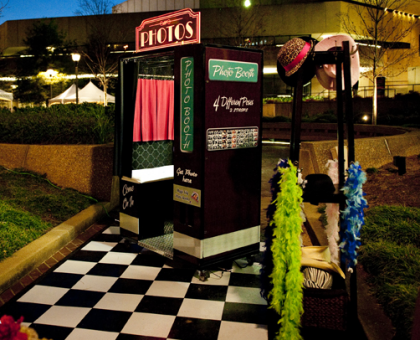 Outdoor Photo Booth Hire
(Originally published as Photo Booths for Outdoor Events 8th Sep 2015, updated 13 Aug 2017)
Whether it be a wedding reception, birthday party, corporate events like Race days or music festivals, school fetes or the local markets. There are so many outdoor events where a photo booth hire can really enhance the day for all the guests.
Its no secret that a photo booth has the ability to attract and entertain a crowd. It also has the unique ability to leave them not only happy but also with a tangible memento of the fun that was had by way of a photostrip. The photostrip is usually printed instantaneously by the machine giving the user instant gratification. All this equates to making an outdoor crowd very happy and entertained.
If you hiring a photo booth for an outdoor, consider the following:
Allowance – Before you commit to hiring a photo booth be sure to advise the photo booth hire operator that you intend to use it in an outdoor setting. Not all photo booth operators will allow this or at the least may have some restrictions which you will want to know about beforehand. If you don't advise the operator and they turn up on the day you risk them refusing to set up and likely losing your hire fee.
Power Supply – Most photo booths will require access to standard power. If no power point is on site you will need to organise a generator. Either way advise your chosen operator how far from the power they will be setting up so they bring adequate power leads with them on the day.
Shelter – Some sort of shelter is generally required to protect the photo booth not only from any possible rain but also from the sun. Too much sun can cause the photos to be overexposed so if your having a day event keep this in mind. Some operators will allow you to have no shelter but best to have one as you risk being liable for any damage to the booth should it get damaged by rain and if the photos are overexposed there is unlikely to be any compensation after the fact.
Wind – Whilst wind wont stop a machine from operating it can be quite a nuisance as it whips any loose curtains around. The other concern is that if your machine has "Video Messaging" that the wind will affect the quality of the audio. This comes back to having a good shelter but even then you may need to take extra steps against the effects of the wind.
All in all having a photo booth for your outdoor event is a great idea and so long as you take in all the aforementioned considerations then your guests will thank you for it!
CLICK HERE

to search local photo booth hire operators around Australia
Photo-credit: Magic City Photo Booths
(Photo Booth Blogger: Justin Jowett)
Tags: Party Ideas, Photo Booth Tips, Outdoor Events
Related Articles
---
Comments