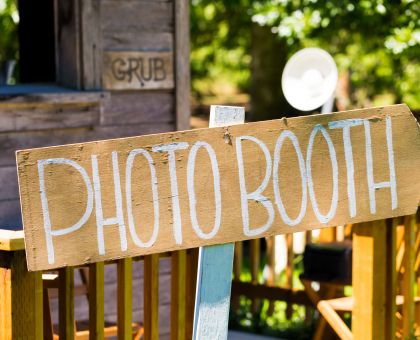 Photo Booths: Essential Knowledge (updated 2017)
So you're planning a Wedding, Birthday Party, Corporate Event or School Formal and you're wondering what can you do to ensure everyone has a fun and unforgettable time? The answer is simple: hire a photo booth!
A photo booth serves two roles; Firstly it's entertainment, keeping guests occupied and having fun. However, it also provides long last memories for both event holders and guests alike which is what makes it a "must have" item. Guests feel uninhibited within the safe confines of the booth, allowing them to be silly and more expressive than normal. Add in a prop box full of wigs, silly glasses and hats even the most serious of people will loosen up and thoroughly enjoy themselves. What you end up with is some of the most fun and candid pictures ever! The option of a guest-book whereby users place one copy of the photostrip (many photobooths print two identical copies of each photostrip) in the album and leave a hand written message. A guest book makes for the most amazing keepsake and is something to be cherished forever especially after a Wedding or other important occasions.
How to select a photo booth?
The first step is to use Photobooth Finder to research local photobooth operators and make a short-list. Our photobooth guide is a great place to start before you do a search. Naturally aside from the right style of photobooth you want a reliable, prompt and professional operator that are still going to be in business come your event! Unfortunately like with many other new industries there are some cowboys out to make a quick dollar. These are the ones double booking, not turning up, forgetting the film roll or just being hard to deal with and you've an important event to plan so you dont have time for that! Research properly now to ensure you're not caught out.
Once you have your short-list you can send them all an enquiry so you can start comparing costs and make an informed choice.
Important Info to Consider When Researching
Be mindful of the floor space your venue actually has when deciding on a suitable size. Not just for the booth but also the table for the guest book and/or props. Often there is a misconception that biggest is best but when it comes to photo booths this isn't always true. People often respond better with their posing when in a more intimate, fun setting.
Photo booths colour and style should be given consideration – it should work in with your theme/venue. A black and/or white photo booth is going to suit all occasions but you may have a particular colour theme you want incorporated. Some operators can offer a change of curtain colour or a different coloured backdrop as another way to personalise your photo booth.
Once you've decided what colour, size and style suit you can start thinking about the photo booths features! Don't assume all booths offer the same features even if they look similar. Things to consider are:
Does it print and cut duplicate photostrips each time?

Does it offer the user the choice of colour, black/white or sepia photostrips as standard? Can this be changed if desired?

Is an attendant required? If so, do I have to pay for their meals?

If no attendant is required - are the booths fully automated so you /your venue doesn't have to worry about anything?

Does it have an interactive monitor so the user knows what's happening, and can they see themselves in frame during the photo taking process?

Does the operator take care of all the venue liaison or is that up to me?

How fast is the print cycle and how many photostrips can I expect for my hire?

Does it have video functionality?
Do I really need an attendant?
Depending on the operator an attendant can be one or more people. Often they are there to cut the photostrips and/or to paste the strips into the album. They may also monitor the use of any props and ensure the photobooth is not damaged by over-excited guests. In doing this their presence may inhibit your guests whilst using the booth. Another consideration is that they may require being fed at cost to you, so be sure to factor this in when comparing pricing.
A select number of photo booth companies offer no attendant photo booths. If using one of these check if they offer automated photo booths or if you have to turn it on yourself. Either way the advantage of this is that the booth can be set up well before your event and not removed until well after or even the next day so interruption is generally avoided. Also no attendant means guests will be less inhibited and often have more fun in the booth.
Video messaging
Having a photo booth with video messaging can be good especially if you don't already have a camera-man and are wanting to capture some live action! Things to consider though are that video messaging does tend to take up a lot more time than just getting photos taken and can result in relatively less photostrips than if you didn't have this feature on. Also think about the likelihood of you actually watching the video messages later. Most people will sit down and look at a filled guest-book as its readily accessible whereas the videos may not receive that much future attention. You need to weigh up the worth of this before definitely deciding you have to have this feature.
Fine Print
It's very important you read and agree with the operators terms and conditions before booking or making payment. Most operators will require a deposit at time of booking with the balance due shortly before your hire. Be sure to read the fine print and be aware of what portion of the money you pay at any given time is non-refundable as this differs greatly from operator to operator. It's also a good idea to see if you can pay your photo booth hire off in instalments. That way you ensure you're not hit with all the big expenses at once.
A professional photobooth isn't always cheap but it is worth it. Be sure to research thoroughly before you decide on the right one, and you can't go wrong. Your guests will thank you for it!
(Photo Booth Blogger: Justin Jowett)
Tags: Photo Booth, Photobooth, Photo Booth Hire, Photo Booth Rental, Wedding Photo Booth, Photo Booth Hire Sydney, Photo Booth Hire Melbourne, Photo Booth Hire Brisbane, Photo Booth Comparison, Cheap Photo Booth, Party Photo Booth, Corporate Photo Booth, Photo Booth Hire Gold Coast, Photo Booth Hire Perth, Photo Booth Hire Adelaide, Photo Booth Hire Canberra, Photo Booth Australia
Related Articles
---
Comments