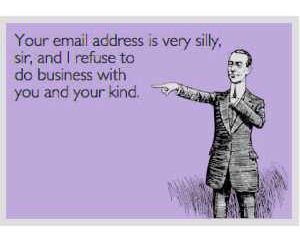 What does your email address say about your business?
For most photo booth operators having a professional email address is a no brainer but I unfortunately have to admit all too often I come across one of you who doesn't and it's hurting your businesses more than you realise.
One of the big things about being successful in any industry if getting the little things right and whilst this alone is not going to bring you instant success it along with many little tweaks absolutely can!
So what do I mean when I say a professional email address? I mean a domain based email.
Domain Based Email
A domain based email is an email address which has your domain ie your web address after the @ symbol. For instance if your business is "DingDong Photo Booths" and your website is www.dingdongphotobooths.com.au then all your email addresses should be @dingdongphotobooths.com.au.
The public actually expect this and subconsciously will think you less professional if you don't have a professional domain based email. According to GoDaddy customers are 9x more likely to go with a business that has a domain name based email than an email client.(eg Hotmail, Gmail or Outlook)
What's wrong with my non domain based email?
Any one can set up an email address via an email client and call themselves anything that is available including business names that are owned by others. This is why we are constantly bombarded with spam from what at first glance looks to be something legitimate like "paypal@gmail.com" but is in fact not. Domain based emails are much much harder to fake and are generally a very good indication that you are in fact dealing with the owner of the website and a legitimate business. This gives the public far more confidence then when they do receive something from you and is also less likely to end up in spam.
Aside from the aforementioned extra trust that comes with having a domain based email an additional benefit is it is a great way to promote your own website with constant branding reinforcement where ever you use it.
How do I get a domain based email?
It's surprisingly easy! Your domain registry service or website hosting service should be able to offer you a domain based email. In fact many can do this without cost for you especially if you are already using an email client (eg Outlook, Hotmail) then it should be straight forward. You may need help to configure your existing email client to "fetch" from the server and "send as" this new email but most will offer a guide so you can set this up yourself.
Conclusion
If you are still using an @gmail or @hotmail web address with your photo booth business name at the front it's time to make the change and raise the bar on how the public views your photo booth business. It's so easy to do and the best bit is you can set it all up so that you still use your existing email client (eg Gmail, Hotmail etc) but the client only sees your professional domain based email address.
Happy Boothin!
Disclaimer: While every caution has been taken to provide readers with most accurate information and honest analysis, please use your discretion before taking any decisions based on the information in this blog. Author will not compensate you in any way whatsoever if you ever happen to suffer a loss/inconvenience/damage because of/while making use of information in this blog.
(Photo Booth Blogger: Justin Jowett)
---
Comments