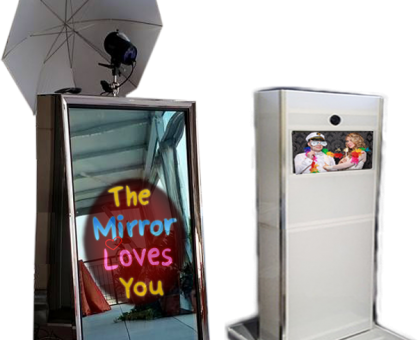 Mirror Booths: Fad or Fabulous?
There have been a lot of trends come and go within the photo booth hire industry since it kicked off in Australia back in 2007. The Mirror Booth is one of the latest trends to really grab the attention of not only the general public but the operators as well. A number of operators have turned this into niche market and exclusively offer Mirror booths for hire to their customers.
So what is a Mirror Booth?
Essentially it is a camera hidden behind a full length mirror with an external printer. The professional ones also include an illuminated display visible on the mirror itself to enhance the experience for the user with countdowns, graphics, program interfaces and other fun and interactive graphic elements. There can also be voice guidance , gesture and movement detection, photo signing, emoji stamping and social games! It really is an amazing piece of technology.
Not all Mirror Booths are made equal.
There are a number of manufacturers of the Mirror Photo Booth around the world as well as many DIY versions so just because you hire a "Mirror Booth" doesn't mean you're always going to get the full experience nor should you compare pricing without further research into what sort of mirror booth is being offered.
Where can you get the best deals on hiring a Mirror Booth?
Right here on Photobooth Finder! We have a network of over 250 photo booth operators around Australia. Start your search now just be sure to select "Mirror Booth" and "Novelty" to refine your search and get the best mirror booth results.
Start your Mirror Booth Search

HERE
Happy Boothin!
Disclaimer: While every caution has been taken to provide readers with most accurate information and honest analysis, please use your discretion before taking any decisions based on the information in this blog. Author will not compensate you in any way whatsoever if you ever happen to suffer a loss/inconvenience/damage because of/while making use of information in this blog.
Photo Credit - FotoMaster Mirror Me Booth
(Photo Booth Blogger: Justin Jowett)
Tags: Mirror Booths, Novelty Booth, Mirror Photo Booth
Related Articles
---
Comments