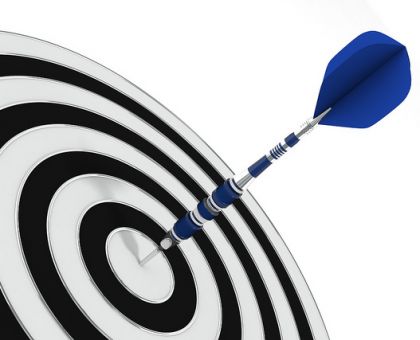 How To Reach Your Photo Booth Target Market in 5 Steps
Are you one of the countless photo booth hire operators struggling to get bookings and can relate to the following statements?
I tried Facebook and got a few likes but not many bookings.
I paid hundreds/thousands for my directory listing as that site is really popular but I think the most I got was some traffic and a couple of enquiries!
I tried a print ad in blah blah magazine but didn't get much more than a few phone calls.
I just think that the industry is getting so saturated there just isn't enough business for all of us.
All to often I hear photo booth operators wanting to know how to get more bookings and telling me that they have spent X amount of dollars on every advertising channel but nothing much works. The problem isn't that their potential clients aren't out there or that there are too many operators its often a problem of incorrect targeting.
So what do I mean by targeting?
I'm talking about constructing an advert or campaign that specifically speaks to, and is put in front of, a specific audience. Namely the one who is most likely to buy that particular product or service you are offering. You wouldn't place a young person in the centre of a footy field at half time to talk to everyone about a mobility scooter designed for the elderly. Sure there prob are a handful of older people who might be interested in the product despite it being spruiked by someone who they cant relate to but overall it would be a waste of money as the return would be very low. A far better way to sell a scooter specifically for the elderly is in front of an elderly audience (in a nursing home, retirement village etc) by someone older who they can trust and that is Target Marketing!
1. Defining Your Target
One of the traps many boothers fall into is thinking that everyone who is interested in a photo booth is their target. Not true. With so many operators and so much interest from the public to hire a photo booth we have to be much more specific and drill down further. Here is a breakdown of the main markets within the photo booth industry:
General Events - Parties, Birthday Parties, 21st's, 18ths, Sweet 16ths, Staff Christmas Parties etc
Weddings - Budget Weddings, Average Weddings, High End Weddings, LGBT Weddings
Corporate - Tradeshows, In store, Experiential, Conferences, Client events etc
Education Sector - School Balls/Proms/Formals, School Fetes, University Events, Orientation Week etc
Religious - Christenings, Bar/Bat Mitzvahs etc
Fundraisers/Charities
If you take a look at your own business you will likely be getting business from more than one of the above markets but what you really need to do is to figure out which of the above are your ideal markets and which are not. It's perfectly fine to have a few but its best to limit your focus and not to have too many. Once you know who you are targeting advertising and reaching them will become a lot clearer but we will get to that...
TIP - You are generally NOT your target market so do not rely on what you think instead you should create Avatars.
2. Creating Avatars
An Avatar is the marketing world is just a description/image of what your ideal client for each market you are trying to reach looks like. The beauty of creating Avatars is that they allow you to get think more like your clients and less like yourself. This is particularly important when it comes to advertising but also helps you when creating new products and services.
So how do you create an Avatar?
There are loads of online resources to help you create an Avatar but basically there are 5 main things you need to outline
PERSONAL INFO - Name (make one up), Age, Marital Status, Geo Location, Gender, Occupation and Income bracket (you might need to survey your clients for some of this info)
GOALS AND VALUES - List the things that are important to them eg seeing their guests entertained and enjoying themselves
CHALLENGES AND PAIN POINTS - List the issues they are facing eg Finding a booth that fits their theme/venue
SOURCE OF INFO - A list of places or resources they use to find out information eg bridal magazines/wedding expos
OBJECTIONS / ROLE IN PURCHASE - What are their likely objects and are they the final decision maker. eg budget constraints
If you want to get a free download to help you with creating your Avatars I recommend DigitalMarketer.com DOWNLOAD MALE / DOWNLOAD FEMALE
3. Why Niching Is Good For Targeting
Niching is a fancy sounding term that basically boils down to offering a specific product or service for a clearly defined target market. For so many operators niching is so counter intuitive to their usual mentality of wanting to give a photo booth to anyone who wants one. Niching is the opposite. It's deciding clearly who your booth is for and catering it accordingly and advertising only for that market. A great example of this would be a Gatsby Themed Booth or a LGBT friendly booth. These are both very specific in who they are meant for but that in turn makes it easy to have a clear message right from how those booths are branded, priced right through to how they're marketed.
TIP - Niching only works when you have access to a large enough market. For instance in the big cities a Gatsby or LGBT themed booth could work very well but would not as suitable for less populous regions.
4. Aligning Your Branding/Website/Services/Pricing
Hopefully by now you are starting to really think seriously about your own business and the markets you are trying to reach or possibly you're even thinking about alternative opportunities within your market. Whatever the case maybe before you start advertising to your newly discovered target market(s) you need to review your branding, website, services and pricing with fresh eyes. Think about whether or not you are really speaking to your markets or whether you need to change some things. It might be the language used for instance if you want to target the LGBT community the imagery and language (and Google friendly keywords) should clearly reflect this. Same with your pricing, if you're going after the high end weddings you need to ooze style and taste across your website and the way your booths looks to justify the top price you will be expected to be charging. Top end brides want to spend top dollar so offer them the best and they will line up to pay!
TIP - Use your Avatars and survey real clients to see if the new things you are thinking of for that market are going to work. Be prepared to pivot (make changes/tweaks) until you get it right.
5. Target Marketing
Now that you have all your ducks in a row you can revisit the actual marketing of your business, booths and services via all the usual channels (Facebook, Adwords, Print etc). You are now armed with the right product(s) and the right mindset about your target markets to get out and create awesome ad campaigns. Just remember that you're going to need to target each market individually if you want the best results. It means more work but the rewards are much higher so its worth it!
TIP - Always track your ROI (return on investment) and make tweaks to ads or pull them altogether if they aren't working. Within a short period you will be a master advertiser for your business.
Happy Boothin!
(Photo Booth Blogger: Justin Jowett)
WANT MORE TIPS AND TRICKS?

CLICK HERE
Disclaimer: While every caution has been taken to provide readers with most accurate information and honest analysis, please use your discretion before taking any decisions based on the information in this blog. Author will not compensate you in any way whatsoever if you ever happen to suffer a loss/inconvenience/damage because of/while making use of information in this blog.
Tags: Photo Booth Target Marketing
---
Comments