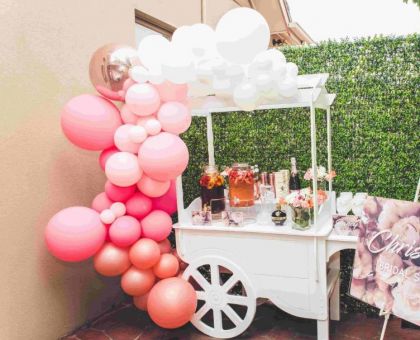 The Ins And Outs Of Hiring A Photo booth For Your Event
There's something special about a photo booth. They make a great accessory to any kind of event, from birthdays, weddings, to corporate functions. Hosts and guests alike love photo booths because they're easy, fun, and a wonderful way to create lifelong memories. Phone selfies just can't compete with the option of taking the real physical photo home with you
Photo booths are becoming such a popular option that dozens, if not hundreds, of companies, have popped up in the last few years to cater to that demand. You might think that they're all pretty much the same; after all, how different can photo booths really be?
One of the biggest mistakes you can make during your party planning is going with the first photo booth company you find online. Before you sign that contract and make a deposit, read through this list of everything you need to know about photo booth hire Melbourne.
Cost & Packages
The first thing you'll have to look at, is of course, price. It's only realistic to set a limit and to stick with it - you don't want to blow your entire budget on a photo booth. Some companies offer packages that can reach up to $1400 for a single day's event, but these usually have numerous add-ons and extras that drive up the overall cost.
On the other end of the spectrum, you have companies with incredibly cheap rates that, honestly, should raise some eyebrows. You get what you pay for, and the low cost will usually mean that something else is sacrificed, like the quality of your photos. The worst case scenario is that the initial price doesn't cover the whole package, and you end up shelling out more than you thought you would.
Look for companies that have a complete yet affordable package. Standard photo booth offerings include; the use of the photobooth for a set number of hours free delivery and setup, an attendant, a custom frame/strip design, backdrop and props, digital copies of the photos, and unlimited prints for the duration of your event. If you want a little extra on the top, ask if your rental service offers guest books, music facilities, and much, much more.
Photo Booth Type & Size
Contrary to popular belief, yes, there is more than one kind of photo booth you can hire for your event! You can choose a type that fits your theme, venue size, and number of guests. Plus, you can request that the photo booth company design the booth to fit your event's overall aesthetic.
Open Air Photo booth
Because there are no walls, an open air photo booth is usually bigger and can handle more people in the frame. Your guests can watch as the fun unfolds, enticing them to get their own pictures taken! Open air booths can be very classy and decorated to fit seamlessly into your party space.
Enclosed Photo Booth
A throwback to the days of the original enclosed photo booth. This works best for retro parties and hosts that want their guests to have a little more privacy.
Insta Booth
We truly live in a digital world! With an Insta Booth, guests can take pictures on their phone and post them to social media using a unique hashtag. The photos are printed on the spot, right there at the venue!
Attendant
While most standard packages come with an attendant, you could potentially save a little money by requesting for an operator-free photo booth rental. If the photo booth company has high-quality equipment, the equipment should be pretty easy to operate for your guests.
However, it's still recommended to get an attendant to man your photo booth. They can assist in setting it up, replacing the paper in the printer when it runs out, and enticing guests towards the booth.
Camera
You don't want a photobooth rental that costs hundreds of dollars, only to see that the camera they use is a webcam or iPad! You're paying top rates, so you should get better-quality pictures than the ones you can take on your own.
Check the company's sample photos to ensure that they're high-quality, beautiful shots that look great and will last for years to come
Prints
The best part about a photo booth? You and your guests can take home some pretty awesome souvenirs. Photo booth rentals usually print 2 strips per session (one for your photo book, maybe, and one for the guests), but you should be able to request additional prints.
It's important to get fast-printing photo booth services. Imagine seeing your guests pool at the photo booth area...and not because they're having fun, but because they're still waiting for their printed photos!
The photo booth company should be able to provide other options for you besides prints - GIFs, Boomerangs, videos, and digital copies of all of the photos.
Props & Backdrops
What sets a photo booth apart from just regular ol' event photography is the fun props and backgrounds! A good photo booth company will have a wide selection of props and backdrops you can choose from to match your theme. You should also be able to request custom backdrops for a little extra, or add your own props to the mix!
Reputation
While several photo booth companies might have similar pricing and packages, you can really weed out the good from the bad based on their reputation. Check out online reviews and their social media pages to see if they're the real deal. You should also ask your friends for recommendations - it's very likely that at least one of them has hired a photo booth for an event!
Hiring The Right Photo booth For Your Event
Hiring a photo booth for your party or event is a surefire way to create and preserve beautiful memories for the rest of your life. You get the best of both worlds, a professional photographer & printouts to remember the event! Your guests will be entertained, and they even get to take home a little bit of the fun! To get the best photo booth hire you've gotta do your research.
Google is your friend, but you can ask around your social circles for their favourite photo booth rentals. Make sure to compare prices and packages, and get quotes from different services providers before you sign on. Keep an eye out for all-in-one entertainment companies that offer not only photo booths for hire, but also event photography/videography and DJs!
---
Comments